InfoComm is the largest professional AV trade show in North America featuring the latest technologies for audio, video, display, projection, lighting and staging, digital signage, conferencing, digital content creation, networking, signal distribution and much more.
Come see us at Booth #6845!
This year Audinate will be exhibiting at the Booth #6845 and will be showing product demonstrations of Dante AV, Dante AVIO Adapters, Dante Domain Manager, and Dante as Software.

We encourage you to stop by and see why Dante is a must for all your audio networking needs.

Furthermore, there are over 120 manufacturers with Dante products exhibiting at InfoComm 2019 (directory on the right). Be sure to stop by their booths and check out their products!

(Click here to download complete list of exhibiting Dante partners at InfoComm 2019.)
Dante Training at InfoComm 2019
We will be offering Level 1, Level 2 and Level 3 Dante Certification at InfoComm 2019.
Presentations
Booth Presentation Schedule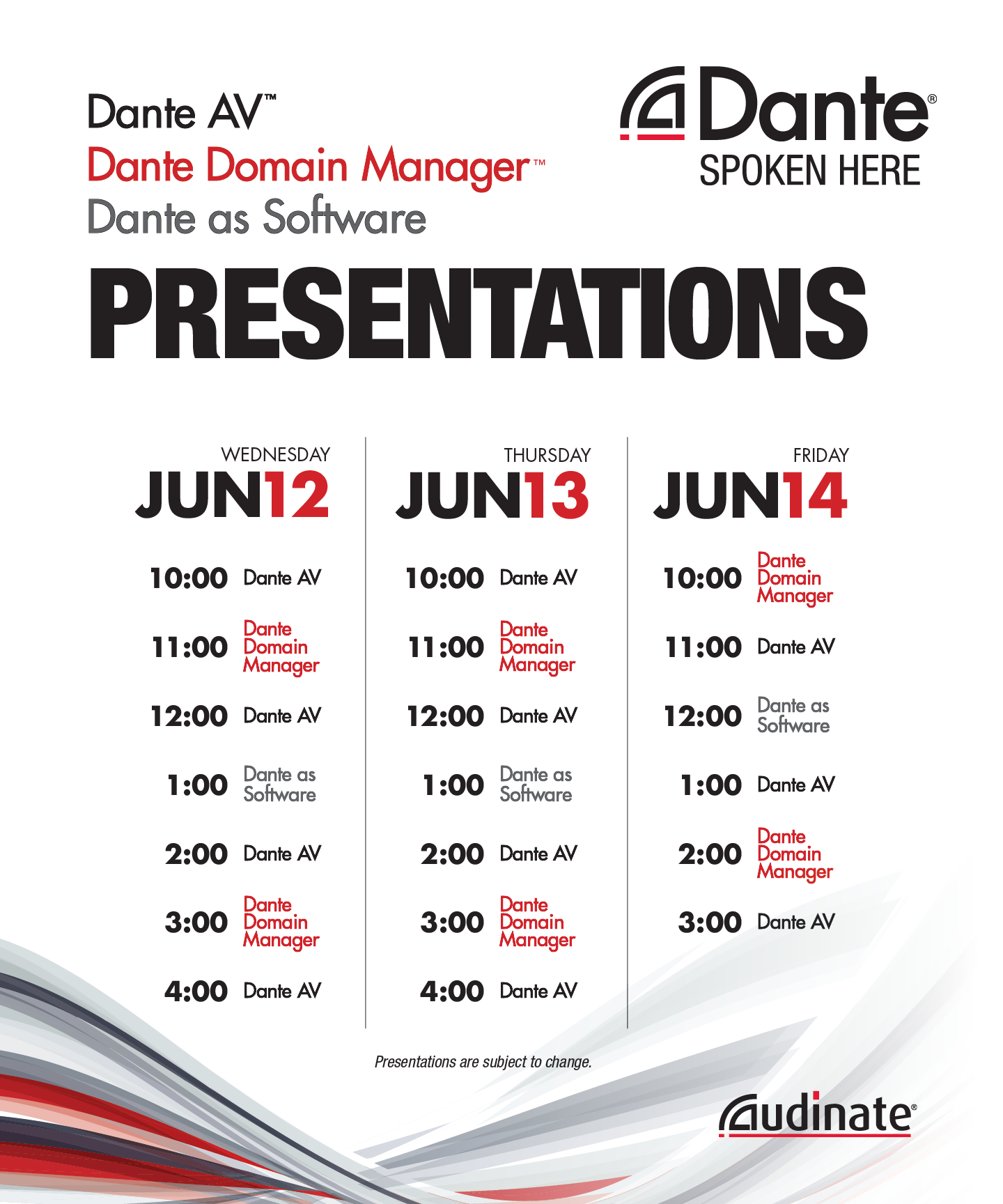 (click here to download a PDF of full presentation schedule)
InfoComm Seminar
In addition to hourly presentations and product demonstrations at the Audinate booth, we will be giving a presentation on June 13 at 3:00 PM entitled "Distributing and Managing Audio/Video Over IP."
Distributing and Managing Audio/Video Over IP
Date: Thursday, June 13
Time: 3:00 - 4:00 pm
Location: Orange County Convention Center - W304E
Cost: InfoComm Seminar and Workshop Package
This session will investigate architectures, tools and pragmatic implementations which allow separate routing and processing of audio and video, with common timing, so that audio and video can play out at end points in perfect synchronization or 'Essence Independent Streaming'. We will also discuss the elements and advantages of a converged control infrastructure with practical examples. We will provide examples of application architectures which can benefit from a converged AV solution and a demonstration of a solution which illustrates how a converged architecture can be deployed. Attendees will be able to:
Understand the issues related to embedding audio into video streams
Separate routing of audio and video without common clock and articulate the challenges presented by divergent management systems
Find resources to implement a converged AV infrastructure and understand the basic requirements for architecting a multi vendor AV over IP environment
This session is open to all seminar and workshop package holders, and will be seated on a first-come, first -served basis.