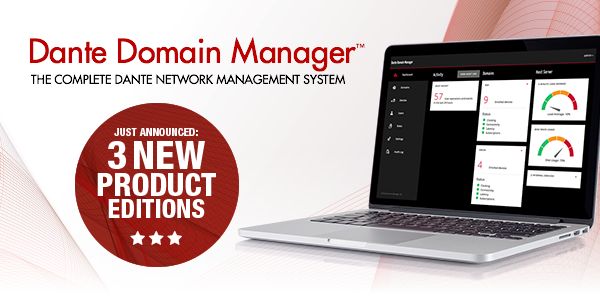 We are pleased to announce that the upcoming Dante Domain Manager platform will be available in three editions: Silver, Gold and Platinum.
Dante Domain Manager is a revolutionary network management solution that manages and supercharges your Dante network. It brings IT best practices to AV, making audio networking more secure, more scalable and more controllable than ever before.
Dante Domain Manager Editions At a Glance
All editions of Dante Domain Manager enable the creation of Dante domains to isolate and organize audio devices, permission-driven user accounts, cross-subnet routing of audio, and powerful administrative features to monitor user actions and system status in key areas.
Silver Edition

The Silver edition provides the features listed above, with a maximum of two domains and 10 audio devices. The Silver edition is ideal for installations that primarily require user management, such as smaller houses of worship or schools.

 
Gold Edition

The Gold edition includes integration with Active Directory and supports up to 10 domains and up to 50 devices. This edition is suited to many mid-sized business environments, allowing for easy management of multiple rooms and public spaces.

 
| | |
| --- | --- |
| Platinum Edition | The Platinum edition expands support up to 50 domains and up to 250 devices, and includes SNMP alerting and a fully redundant "high availability" option for mission critical systems. The Platinum edition covers the management needs of large scale installations, supporting many users, rooms and devices spread over a wide area. |