Webinar: Dante Domain Manager in Higher Education Summit
On Tuesday, October 29th, Audinate and a special panel of AV/IT decision-makers in an array of university settings gathered for a summit on Dante Domain Manager in higher education.
All of our panelists are currently or will be utilizing Dante Domain Manager to better manage and secure their Dante audio network across their entire campus. They discussed the unique challenges they have experienced in managing a networked AV system in higher education, and how Dante Domain Manager addresses these challenges
Date:
October 29, 2019
Time:
11:00 AM PDT
2:00 PM EDT
Cost:
Free
Duration:
1 hour
Q&A Responses
Technical Dante Domain Manager Questions
Q: A/V is so integrated. DDM only solves one part, but it does not give me confidence in the whole event since video is most of the time unmonitored. Do you also monitor video in some way?
A: In February of this year, Audinate announced Dante AV - a solution to ship video across a 1Gbit network. The goal was to get manufacturers supporting it, and to let customers know this is around the bend. We suspect this will be available mid-next year. Dante AV devices can be managed by Dante Domain Manager - including the management of HDCP (High-bandwidth Digital Copy Protection). So yes, everything you know about audio will apply in the video world.
Q: Does Dante Domain Manager come with implementation support? Does Audinate provide a network architecture service to integrated DDM?
A: Dante Domain Manager is sold through resellers that have been trained by Audinate on Dante Domain Manager and can provide implementation support as well as the first line of post install support. Audiate pre-sales and customer support are also available to help with pre-installation and post-installation questions.
Q: How has DDM manager worked over a WAN? So if I have a campuses in multiple states? Can we sent audio to different locations?
A: A: WAN applications are one of the common drivers towards Dante Domain Manager. We have a profile of Children's Minnesota Hospital Star Studios that talked about this, linking two propteries on different subnets.
What you can accomplish is highly dependent upon the underlaying network infrastructure. Monitoring and Control of devices via Dante Domain Manager/logging into Dante Controller to make changes is achievable with a standard VPN connection. If you are looking to send audio across the WAN, network latency comes into play - will the audio packets arrive in time and not be dropped. If the network is too jittery (packets arriving at inconsistent times) keeping devices in sync can be an issue though DDM 1.1 addresses this with the ability to use GPS clocks to keep devices in sync in geographically separated locations.
Q: Concepts and systems would be much easier to realize and explain with flowcharts. Are any available? REAL installs with equip lists would be nice.
A: Cal Baptist and Idaho State are both using DDM today. We don't have diagrams of specific installations - that is often difficult, because of the size and the fact that systems change with portable applications. However, the concepts in the diagrams we have online are exactly what has been done in these schools, and can be found here .
Q: Could there be a way Dante Domain Manager could be supplied as a demo version so it could be used and practiced on without such a prohibitive cost?
A: We offer 30 and 60 day demos - contact Sales for more information.
Q: Do you see Audinate combining AUDIO APPS VIDEO DIG SIGANAGE for emergency announcement? do you forsee Audinate used as a transport for Audio/App - device/video/digital signage for Security Alerts
A: At Audinate, we generally focus on providing the tools to get media across the network. The products to address a specific application is really up to manufacturers.
Q: Is timing-free Dante possible using the PTPv2 options in DDM 1.1 (and what resources exist to learn more?)
A: Dante devices that support AES67 can chase PTPv2. Any Dante device chasing PTPv2 can act as a boundary clock for Dante devices that only supported the original PTP. So yes, we can chase PTPv2. To the "timing free" part of the question, if you want to allow a Dante domain to clock independently from other domains, you can do that.
The new functionality in DDM 1.1 that takes advantage of PTPv2 would be the ablity to create Zones within a domain that sync between them in a way seperate from PTP i.e. GPS clocks. Sync of some sort is still necessary for the audio playback.
Q: I've been searching for and can't find the document that was mentioned: How to talk to your IT Department about Dante. If anyone can point me to that, it seems like valuable literature.
A: Here are some resources you may find useful:
Q: The big missing feature is end-user preset changes with Crestron or other control systems.I can't justify buying without this feature. Are there any plans for this kind of control?
A: This is up to manufacturers to implement into their products. They have the ability to do this with the Dante API.
Q: Voice Fire Alarm systems and Mass Notification (properly refered to as ECS Emergency Communications Systems) require high levels of supervision to automatically report troubles or failures. Also, the use of Dante would have to be accepted by the AHJ. How would these higher level requirements be met?
A: Life-safety sytems are challenging - code continues to evolve and what passes code in one region might not in another. With that said, Dante has been accepted as part of a design for large gatherings places. If you have that need, we can help you find experts who work with that on a regular basis.
Q: Which virtual enviroment did you try for Dante Domain Manager and which one do you feel the most stable?
Hosting Dante Domain Manager on server class hardware provides the most stability. Whether that is installed bare metal or on a virtualization platform like VMWare's ESXi® will likely have very little impact on stability.
Scott Burgess (panelist): I've been running it successfully in Virtual Box but plan to migrate to a dedicated (older) Mac Mini set up using the ISO that Audinate has assembled.
Q: Would you be willing to offer an online class or course of Dante Domain Manager?
A: We are in the process of incorporating Dante Domain Manager into various training courses offered by Audinate, as well as releasing more in depth videos on Dante Domain Manager features. Additional, training on Dante Domain Manager topics is frequently done at live trainings check audinate.com/events for one near you.
Panelist Q&A
(please check back as we will be updating this sections as panelists answer these questions in the coming days)
Q: A/V is so integrated. DDM only solves one part, but it does not give me confidence in the whole event since video is most of the time unmonitored. Do you also monitor video in some way?
A: Joe Way: For us, the reason for Dante Domain Manager was to monitor, share, and route audio at an enterprise level. We will run our audio parallel to the video systems but do separate it in order to have more flexibility. The video dependent venues use NDI and/or other video methods, and they will monitor that separately. Looking down the line, Dante AV appears to be a possible good solution.
A: Scott Burgess: No, we do not monitor video.
Q: Anybody using virtual sound card on a student's computer to enable assisted listening or recording?
A: Joe Way: Yes and yes sorta. Since we strip the audio out fromthe switcher and then feed it to necessary locations, we are able to send multtrack audio from venue locations or talking head locations to any DAW around campu depending upon the department needing it. For assisted listening, the audio just routes to the transmitter device; it is not Dante distributing it fully. That seems promising though.
A: Scott Burgess: Love the idea, but we would need a pedagogical reason to have students purchase the VSC licsnes. We do use it for concert recording, and really like the ease of it.
Q: Are any of you using Dante Intercoms? If so which one and why? Looking for ClearCom alternatices and more attractive price points.
A: Joe Way: Sorta. Because we use the production booth in one building to stream out the feed, but the announcers are at the field, we do use Dante as their communication device. We just use board channels for it and not dedicated hardware, but principle is the same.
Q: For the panelists: One person mentioned operating on an isolated network. We operate on a converged network. Curious how many operate this way
A: Jay Way: We are a converged network; DDM doesn't care. That's more of a network team concern and need for good communication from us so that they can prioritize traffic.
A: Scott Burgess: We're mostly isolated with some converged.
Q: Has any of the panelists experienced issues with specific manufacturers while implementing DDM?
A: Joe Way: Nope.In fact they are usually more than happy to help in order to have their product be the chosen one for a large-scale installation.
A: Scott Burgess: Just the wait for firmware updates!
Q: How is the impact in Students to learn with this new softwares? Talk a bit of the possibility of sending multiple channels to a single channel in the Dante Controller. I'm saying this because I had a theatre play that I wanted to send two audio signals to the same speaker. (I had two line of speakers, one at the front and other on the back of the stage. I wanted have the same subs in the front that make part of the system on the back (with delay). - I had done with analog splitter.
A: Joe Way: We answer this in the video, but it's huge! Dante Controller and Virtual Sound Card are great tools for student learning. And Dante Domain Manager makes it even easier becuase you can create a student learning domain. W/o DDM, anyone throwing up DC could reroute anything or use VSC to add unwanted audio to the mix, but with DDM you can have a student domain where you give them freedom to do what they want, routing to their own DAWs without messing up your teaching/program audio. And they can then fallow along separately and hear the results on their own headphones/computers.
A: Scott Burgess: This was mostly answered in the live portion of the webinar, but to answer your second part of the question, you will need some sort of mixer. As discussed in the classroom alerts topic, Dante can be split but can't combine signals.
Q: is there anyone using a converged SD DNA Network with Dante Domain Manager, and how hard was it to set up?
A: Joe Way: We are converged, but we didn't set it up. Another department oversees that and partnered with us. They didn't ever act like our ask was difficult or inconvenient.
A: Scott Burgess: Not at this time, no.
Q: Which edition, Silver, Gold, or Platinum are you each running? How did you justify the cost, base and annual maintenance fee, to your administration/purchasing dept.? Our facilty is a PAC on a college campus with 4 theatres, we have many different users from or senior management, to our technicians, to students, and evenour house staff (ushers, box office, etc.) so we need to have a number of levels of access. How are you all managing that, and finding the balance of what permissions to give to whom?
A: Joe Way: Platinum. We needed it because we needed the number of nodes and domains, buta also because of the added LDAP and SNMP features. Establishing users is actually the easy part once the domains are set up, because you can just grant access to the specific areas of need.
A: Scott Burgess: We run Silver, but might upgrade to Gold soon. We may soon need the extra nodes and the LDAP is appealling. Balance of permissions is yet to be worked out here!
---
Moderator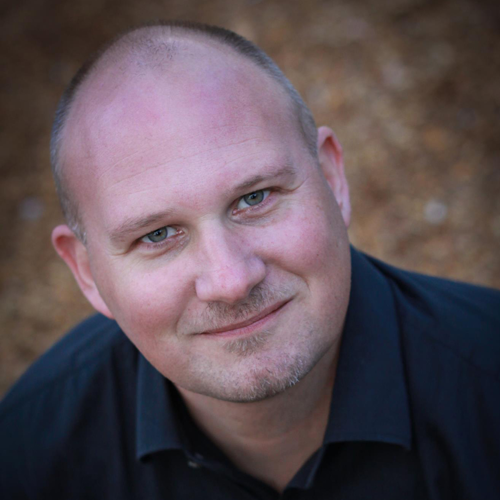 Joe Way
University of Southern California
Joe Way, PhD, CTS is the Director of Learning Environments at the University of Southern California. Previously, he worked as the Director of Multimedia Services at California Baptist University and the Regional Tech Director for Saddleback Church. Joe hosts the Higher Ed AV podcast and wrote the book Producing Worship: A theology of Church Technical Arts. Joe also serves on the USC Athletics Trojan Board of Directors and is a regular contributor to Church Production Magazine. He has received numerous awards throughout his career and has more than 25 years of experience in education, technical production, and organizational management.
Webinar Panelists
Scott Burgess
University of Colorado, Denver
Scott Burgess is the Manager of Recording Labs and Live Sound at the University of Colorado, Denver. Scott's academic career includes Interlochen Academy, the Cleveland Institute of Music, and Cleveland State University. His work experience includes time at Commercial Recording Studios, Telarc International, and Central Michigan University. Scott founded the White Pine Music label in 2004 before returning to education at the University of Colorado, Denver in 2013. Scott has performed with several groups including the orchestras of Atlanta, Cleveland, Memphis, and the Sphinx Virtuos.
Will Davidson
Brigham Young University Idaho
Will Davidson is a Media Systems Engineer at Brigham Young University - Idaho, where he is also pursuing his bachelor's degree in Interdisciplinary Studies. His work background includes experience as a stage and lighting technician, low voltage electrician, systems installer, drawing consultant, and IT support technician. Will has Dante Certification Level 3 from Audinate and specializes in AV production.
Guy Eckelberger
University Of Oregon
Guy Eckelberger is the Director of Information Technology at the University of Oregon. This role oversees all aspects of technology support for the university. His work includes analyzing systems and identifying needs, assisting with implementation, training users, resolving problems, and maintaining the hardware, software and network resources required for the school's instruction, administration, and communications. An accomplished musician, Guy spent more than 13 years performing across the nation with multiple bands. He has worked with concert production companies, in studio design and construction, and as a recording engineer. Guy also owns and operates a private recording studio in Eugene, Oregon called Shutup & Play Studios.
Sean Snitzer
Arizona State University
Sean Snitzer is Arizona State University's Senior Systems Analyst, a role that has him overseeing IT customer support and the design and integration of the university's AV infrastructure. Sean graduated from ASU in 1996. He then worked at the University of Arizona for five years on the IT and AV staff. He earned his master's from the University of Phoenix in 2001. Sean also returned to his Sun Devil roots in 2001 by joining the Arizona State University technical staff. In total, he has more than 23 years of experience in IT and AV background in the higher education space.