Dante Helps Haunted Hotel Spread the Terror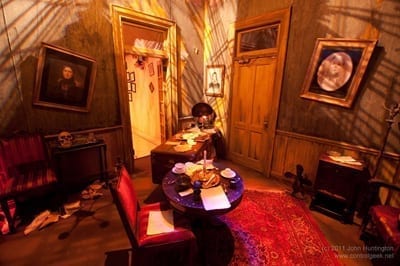 New York City College of Technology, New York, NY United States
Description
The Gravesend Inn is a "Haunted Hotel" attraction in Brooklyn, New York, and the proprietors take the business of surprising and scaring people very seriously.  Launched in 1999, New York City College of Technology (City Tech) professors' John Huntington and Bruce Ellman have supervised the sound design and operation for one of Brooklyn's most popular Halloween seasonal attractions since 2008.
The renowned attraction—designed by faculty and installed and overseen by a crew of 60 students--is set up annually inside the school's Voorhees Theatre, and has a history of using innovative technology.  City Tech's resident theatrical troupe Theatreworks produces the event, with students and faculty supporting design, construction, and operation. This year nearly than 3,000 people slinked through the haunted hotel, with the school's technical prowess and ability to frighten unsuspecting participants.
Challenge
Over the years, the technology used to support various features has been updated to better distribute and manage eerie sound and video effects across the building infrastructure.  Most recently, Huntington and Ellman specifically sought a way to move uncompressed, multi-channel, low-latency digital audio across the standard Ethernet network built within the Voorhees Theatre for the show, leveraging an array of Cisco switches to manage seven virtual local area networks (VLANs).  They also craved a networking solution that would help to synchronize hardware components and execute audio, lighting and motion cues exactly where and when planned.
Solution
The team selected Audinate's Dante networking technology in autumn of 2011, and has since reaped the rewards of reliable, high-capacity and high-quality audio distribution.  The sound system is comprised of a many components spread throughout the attraction, including a Yamaha PM5D audio console with two internal Dante-MY16-AUD cards; and a Yamaha DM1000 console with one Dante-MY16-AUD card.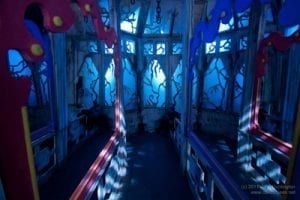 Stage Research SFX software generates the haunted sounds from a standard PC.  A Dante Virtual Sound Card lives on that same PC, networking audio over IP to better accommodate high-channel counts, and simplify patching and signal distribution.
Ellman notes that the configuration is simple to set up and troubleshoot since all sources are networked over Ethernet, saving he and Huntington considerable time.  He adds that Dante networking has also significantly reduced investment costs for new I/O and signal distribution equipment, and dramatically reduced the cable infrastructure.
"The Yamaha consoles are being used for Dante breakout distribution, with a long multi-cable running from the PM5D to our amp racks backstage," Ellman said. "Next year we plan to eliminate the PM5D/multiplex run and replace all analog runs using Yamaha RIO I/O breakout boxes.  There will always be a console involved as we run several live feed channels (five for video and three for paging), but only to input audio, not to route it."
Ellman explained that every source coming out of the SFX software is via the Dante Virtual Sound Card (DVS), and routing is configured using a Dante Controller. They utilize two network cards in the SFX computer: one for the Dante network and one for the control network. The network, as designed by Huntington, uses Layer III managed Cisco Small Business switches to implement the VLAN and some routing.  This allows all systems to be connected via common switches, further simplifying system design and saving time for student installation crews.
Huntington's strategy includes a second computer for backup, which is configured with the same two fixed IP addresses as the main computer.  The crew can simply swap out the two network cables and initiate the Dante-enabled controller backup preset if needed.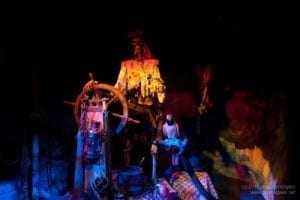 "Over the last couple of years, the setup of new additions to the Gravesend Inn have gone faster and simpler primarily because of the Dante network," Ellman said, stressing the improved technical efficiency across the attraction.  "I look forward to next year's incarnation when, besides instituting new playback software, we can place a Yamaha Rio breakout box wherever I need to get the sound that's in my head out into the air."
Benefits and Savings
High-capacity solution for low latency, multi-channel audio networking
Notable savings in labor and hardware costs
Interoperability across network improves audio/video synchronization